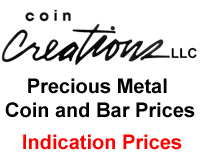 Current Market Rates Per Ounce
February 20, 2017 9:19:33 AM PST


USD $
CAD $
Gold (AU):
1,237.65
1,620.46
Silver (AG):
18.05
23.63
Platinum (PT):
1,004.51
1,315.20
Palladium (PD):
772.93
1,012.00
USD-CAD Exchange Rate:
1.309


Coin Creations, LLC
17818 South Main Street
Gardena, CA 90248, USA
Tel: (310) 532-8142
Toll Free Ordering: 1-800-634-2262
Fax: (310) 532-8713
e-Mail: sales@coincreations.com
Web: www.coincreations.com





Following is a list of the paladium bars and coins that we regularly buy and sell. Images and specifications are listed first. Current buying and selling prices follow the descriptions. The prices for these items fluctuate with the ever-changing market rates so . Price is for current year issue (if applicable). Earlier dates may be available at a premium. Please ask your booking agent. Please call 1-800-634-2262 to order or send an e-mail to inquire about products not listed here.

The following prices are in US Dollars. Click Euros or Canadian Dollars
Bid is what Coin Creations would pay you. Ask is what Coin Creations will sell to you for.
| | | |
| --- | --- | --- |
| Bullion Description | BID | ASK |
| Palladium 1 oz. .9995 Maple Leaf | $752.93 | $802.93 |
| Palladium 1 oz. .9995 Bars | $752.93 | $792.93 |
| Palladium Scrap 90% (per gram) | $15.58 | $23.37 |


Home | Products and Prices | Top
Website © Copyright Coin Creations, LLC 2012. All rights reserved.
Pricing index programming and site hosting by Sandrix Technologies Ltd. (AXD)